'Country Vault' to Americana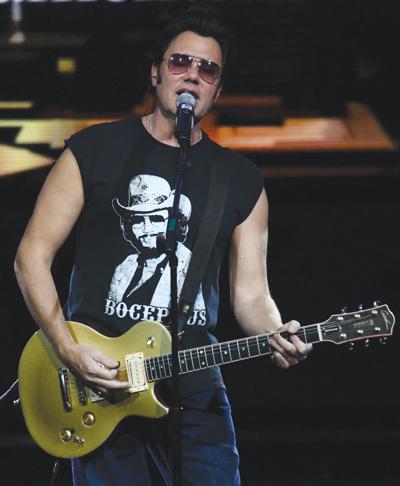 After many months with not so much as a peep, the "Branson Shuffle," the unofficial nickname for shows changing venues from season to season, is finally here, and there have been a flurry of announcements.
Earlier this week, producers of "Raiding the Country Vault" announced they would be relocating from the Starlite Theatre, and will call the Americana Theatre home in 2019.
"The Americana Theatre is so proud to be home of the best and fastest growing shows in Branson starting in 2019," said Chris Newsom of the Americana Theatre. "They have taken Branson by storm and should be on everyone's must see list."
"Raiding the Country Vault," the sister show to "Raiding the Rock Vault" in Las Vegas, features a rotating lineup of all-star musicians, many of whom have had their own chart-topping hits, have written major hits, or who have toured with the biggest names in the business. They perform tunes from some of country music's biggest and best stars. The show is set to media featured on several large screens.
Over the last three seasons, "Raiding the Country Vault" has been awarded "Entertainers of the Year," "Best Band," and several other individual band awards.The show currently features "Choices" and "I Don't Need Your Rockin' Chair" songwriter Billy Yates, Ricochet frontman Heath Wright, country music hitmaker Eric Heatherly, Hank Williams Jr. bassist Michelle "Poecephus" Poe, Fiddle Player of the Year Melody Hart, Dr. Scott Kwapezeski on pedal steel and banjo, Steve Ramsey on keyboards, instrumentalist David Smith, and drummer Pete Generous.
In addition to "Raiding the Country Vault," the Americana Theatre is also home to "CJ Newsom's Classic Country and Comedy," "From Broadway to Buble starring George Dyer," "Dolly and Friends A Tribute," as well as "Country Vault" cast member Yates' own show, "Billy Yates' Hit Songwriters in the Round."
In the "Songwriters" show, Yates invites two different songwriters each week to share the stories behind their hit songs, perform and talk about their writing experiences.  A totally unique, unplugged and unscripted show, Yates' passion project has been well-received this season, taking home Best New Show of the Year. 
"We are excited to be moving to the Americana Theatre, in the heart of the entertainment district and joining 'Billy Yates Hit Songwriters in the Round,'" said Sir Harry Cowell, "Raiding the Country Vault" producer. "Two great award winning shows under one roof."
Cowell also said more concert shows will soon be announced.  
"This promises to be a very exciting year," Cowell said.
Currently, the cast is performing "Raiding the Country Vault Christmas," featuring classic Christmas music at the Starlite Theatre. The venue will also host "The Prophecy, A Trans-Siberian Style Show."
This group of performers are all Juilliard trained musicians, and they are the only traveling show that is authorized to use the "Trans-Siberian Orchestra" name. The show is set to feature favorite TSO holiday songs, as well as unique lighting, lasers, costumes and more.
"The Prophecy, A Trans-Siberian Style Show" is set to take the Starlite stage Nov. 12-16, as well as Nov. 26-30.
In other "Branson Shuffle" news, "Buckets N Boards," which has also called the Starlite Theatre home the past few seasons, will move to Dick Clark's American Bandstand Theater. 
In addition to the "Legends in Concert" show and "Buckets N Boards," the theater will also host a bevy of special shows, concerts and events, including "Friends The Musical" on April 27, two special performances by Ronnie McDowell as part of the annual Branson Elvis Festival April 11 and 14, "Vicki Lawrence and Mama A Two Woman Show" May 12, Billy Dean and Darryl Worley May 18, Gary Lewis and the Playboys and Buckinghams' lead singer Dennis Tufano, plus a special third guest, Oct. 12, and Moe Bandy Oct. 16, 2019.
Keep reading the Branson Tri-Lakes News, Branson Live and the Ozark Mountain Visitor to keep up with all things "Branson Shuffle."